I have been following Rens Kroes for quite some time now and I love the healthy bubbly positive vibe she's got going on. I met her at an event and asked her if she would be up for an interview. She said yes and mentioned her cookbook coming out too. Perfect timing for an interview I'd say!
Age: 27
Profession: Health Coach
Website: http://Renskroes.com
What does food mean to you? Why so passionate?
To me food is "gezelligheid" (there is no word for it in EN, but cosiness is the closest I can get) but its also healthy..fresh..yummy and conscious.. All of this together with friends. Growing up with a granddad who was a farmer, a grandmother who was a herbal medicine woman and my mother being a nutritionist as well, eating conscious and healthy food was always part of our family. To me it was more than normal to continue such a life style.
When and why did you start www.renskroes.com?
I worked at an Obesitas clinic and there I started coaching people. I saw how they were eating, their lifestyle, their mental state and that got me thinking. Its not only about eating healthy food, but a lot more, so I started blogging about it. I had lots of recipes too, so the blog was a nice way to combine coaching and inspiring people.
Who learned you how to cook?
No one, I actually learned by doing. My dad is a very good cook and I always watched my parents cook. When I grew older, they asked me to help out and cook every once in a while. Once on my own I started cooking a lot more and experimenting.
Where do you get your inspiration from to cook?
See what other people are making and by trying to cook it myself, give it my own twist. Since I have my own blog, I've started thinking more in themes like easter or Kingsday. It automatically points you in certain direction. For example Kingsday, it means making something orange, so I was thinking something with carrots. It resulted in me baking a carrot cake. What also inspires me is eating at restaurants or having lunch at cafes or during traveling. I also like to check out stuff on Youtube, the other day, I saw a video of someone cutting cherry tomatoes with the use of two plates. Cookbooks inspire me too.
I was able to get a sneak peak of your first cookbook "Powerfood", tell us, how did it all begin?
I realize I am very blessed to be able to make my first cookbook and luckily when starting with the whole process I already had half of all of the recipes because of my blog. The other half of recipes were written after that. It took me more or less 3 months of full time cooking tweaking and more cooking. It was quite intense, especially working full time too. I am very proud of how it turned out and when doing such a big project, the outcome is your main driver: having a cookbook that is yours!
Why should we buy your book, what makes it special?
The book is written is such a way that cooking is healthy but simple and therefor easy to make. On the one hand I wanted to reach a group of people who want to live a healthier life style and inspire them and on the other hand give people, who are already very conscious when it comes to eating, new ideas. I am very adventurous, so this whole cook book is one big adventure to me. First and foremost I wanted to inspire people, help them, coach them. Thats what makes me happy.
What is the recipe your most proud of? Can you share that recipe with us?
Oh wow, hard to say, basically I am proud of all the recipes. If I have to name one, it would be the "Kickstart" for breakfast. Oh and there is also a recipe from my boyfriend in there. You'll just have to go and see for yourself which one that is. I also made a Saoto soup, a Javanese soup eaten a lot by Surinamese people. I made my version of it, not the traditional way, but with a nice Kroes twist to it.
When can we buy it and better yet, where?
You can already pre order the book, but it will be released on the 6th of June. You'll be able to buy it via Bol.com. On my website, I will be providing information on where to buy it. Oh and it will be available in English too!
We know your mom was a nutritionist too and you grew up with a healthy eating life style, but still I want to know what would be the one unhealthy thing you guys would eat?
Definitely eating french fries with mayonnaise! Haha I love french fries. Oh and once a week, my mom would go and get us shortbread (sprits) at the bakery. It was quite a big cookie, so I would try to take a little bite every now and then so I could enjoy eating it all day.
What is the next food hype going to be about?
I don't know about a hype, but what I do know is that people are becoming more and more aware and conscious of what they eat. You see it everywhere around you. What are we eating, where does it come from, is it healthy, does is fit my life style? I think we are going back to eating more healthy food. I think we have two groups here in NL, people who fit in that profile and people who don't.
As it was your bday recently, tell me, what does your birthday food look like?
Funny note..Rens had to share her bday all those years with the Queen, as the 30th of april had been Queensday for years, up un till now. This year they changed it because of our new king and his birthday, that is on the 26th of April…So this year, she had her bday all to herself. She said..too bad nobody hung out a flag for me 😉
Usually I cook for everyone, a different theme every year: Indonesian, Indian, Surinamese. I love savory dishes, healthy cakes. This year was a busy year…So I didn't focus on it too much; with family and friends and a lot of good food!
What is your fave cuisine?
Hmmm..I love asian food! Its fresh, light and finger licking good. Noodles,sea weed and oooh I love sushi! I make a healthy version for myself with Quinoa. During my trip through Thailand, I ate so many tasty salads. I absolutely love guacamole too and Mexican food, Ethiopian food; as you can see, I can't choose basically. I love everything, but it really depends on my mood and what I'm craving at that moment. It should not have a lot of fat. Not my thing. I also love eating Ivorian food with my boyfriend, think freshly caught fish with onions, tomatoes and veggies. Hmmmm delish!
What is your fave Meal
I love a good Miso soup, made with soba noodles, sea weed and tofu.
Do you have a fave cookbook? Why?
No, in all honesty not really. If I have to name one, it would be the cookbook by Gwyneth Paltrow: "Its all good". A nice clean and beautiful book. It looks good, has a natural vibe all over and great recipes. Because of my own book coming out, I tend to go to book shops more often to get inspired.
Most memorable moment in the kitchen (good or bad)?
Ok, for your information: I am not the most organized person and pretty clumsy too. The other day I was making sweet potato and vegetable soup. A nice big pot, as I cook in advance sometimes. It was meant to be enough for a few meals, but then as I was cooking, I bumped into the pan and it went all over the place. Seriously, all over the place; the pan made a nice somersault and ended up on the floor with all of the soup scattered all over the place. I have a small kitchen, so I try to clean up as much as I can, but still it remains a mess. I cleaned up all of the mess and had to leave right after. I didn't have any food any more. I was more than done with it. Hahhaahaha
Do you have a guilty pleasure when it comes to food? Tell us
I absolutely looooove champagne with fries and mayo. If I make them myself, I love to make sweet potato fries with coconut oil and then have some home made mayonnaise on the side and then I think to myself this is healthier and still super yummy. If I buy them, I always go to an organic fries shop right around the corner of my house.
Do you have an ideal culinary destination and what would the trip look like? / Bucket list
No not really, I went to Thailand and loved it there. I would like to go and travel a lot more through Asia though. I think my ideal culinary trip needs to be discovered still. I am so curious to go and experience all those countries. I would love to eat local things, understand the culture and get insights in to why it is people grow so old there, what do they do to relax. For example, I know that in Japan, they eat a lot of miso and sweet potato soup. Even when they are old, they are still super fit.
Which 3 ingredients would we always find in your home?
Lemons, I use them every single day. Lemons are a good cleanser for the body. Very often I use them in a smoothy too.
But you'll also find herbs like fresh oregano. I seriously try to use it in all of my dishes. I love it!
Kurkuma too, I make a feel good drink with it. Add half a teaspoon of kurkuma and ginger, a teaspoon of honey, camomile tea and half a lemon in a big mug and add hot water to it. Ginger has a warming effect, camomile calms your body and lemon and kurkuma improve digestion.
And last but certainly not least, avocados; always! I live pretty close to a market here and I go there at the end of the day and then buy a whole batch for such a good price. Shh don't tell anyone.
What other interests do you have we don't know?
I love to dance a lot! With my girlfriends, especially with a friend who's also my assistant. As they would say Surinamese style "lekker met de billen schudden" aka some ass shaking.
Dish you master?
My Quinoa salad, currently on my blog, but its also going to be in the cook book! Its a salad with coriander, quinoa, cucumber, tomatoes, feta, olive oil, pepper and salt.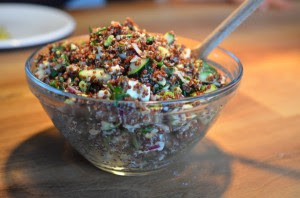 Picture by Rens Kroes
What are your favorite hotspots?
I cook at home quite a lot actually, I am such an at home person. Nowadays I do go out and have food outside more often. I enjoy it and it inspires me too. I also want my food to be healthy when eating out side, so "SLA" is a favorite. I also like to go to "de Luwte", that is owned by a friend of mine. Its such a cosy nice place, not per se super healthy, but really nice! In NYC I love the "Juice Press"..that is..seriously..amazing! Healthy breakfast, healthy juices..healthy everything! Fantastic!
Fave quote?
I always say: Power food to the people!
Read the NL version of this interview or other foodie interviews.